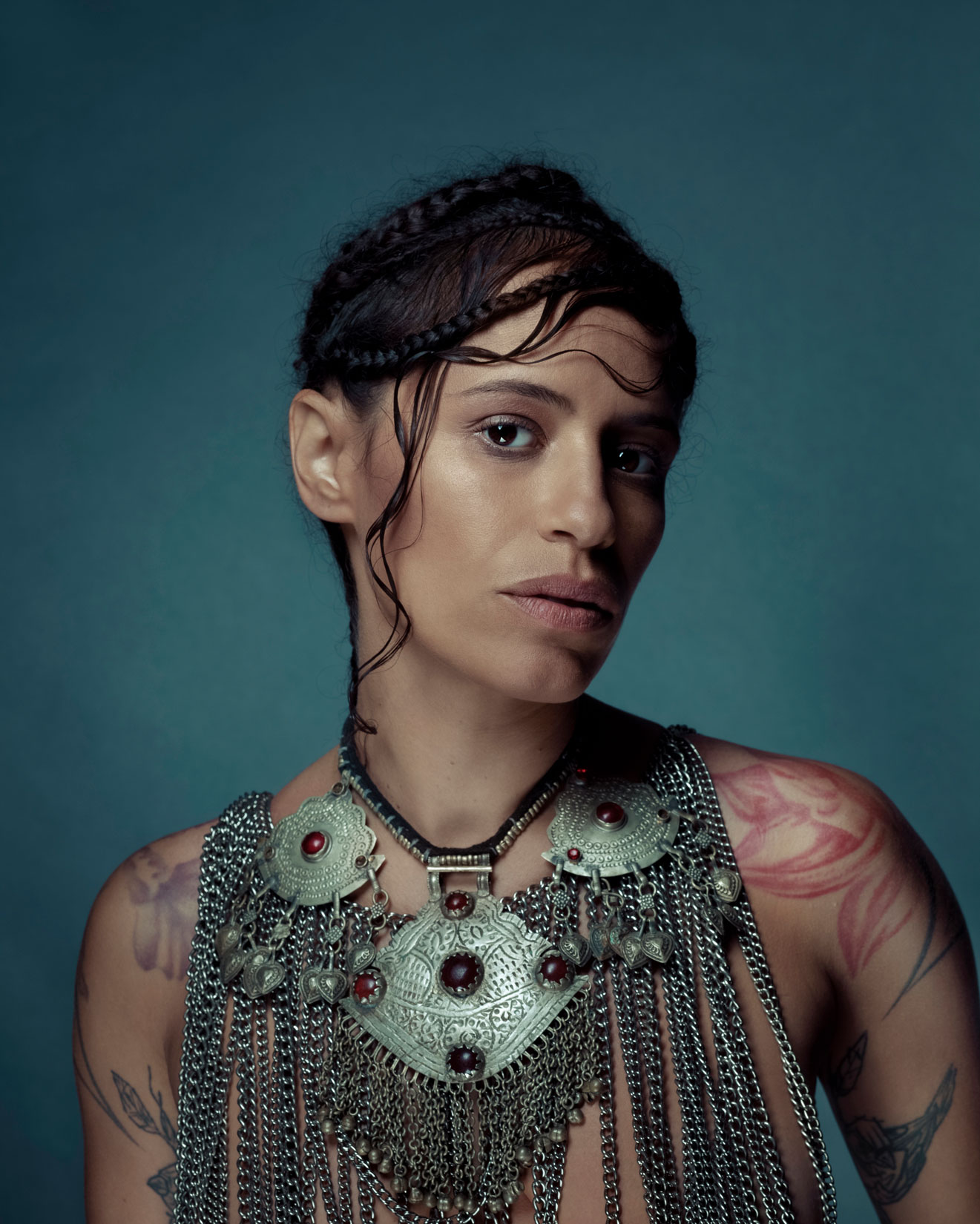 The first single off 'Zeitkapsel', the sophomore album from Brazil-born, Berlin-based DJ, producer and vocalist Joyce Muniz, 'In Der Nacht' was actually the last track to be written for the release.
Its pulsing electro strut – somewhere between 80s new wave and 2000s nu rave – and German-sung lyrics about the surreal, hypnagogic state connecting dreams and reality, tie together various formative influences Muniz re-explores on 'Zeitkapsel – an album she wrote over lockdown while reflecting on the various facets of her career.
Muniz moved to Vienna, Austria, in the mid-90s, and the larger-than-life aesthetic and tongue-in-cheek humour of hugely successful Austrian artists such as Falco, Supermax and EAV hangs large on 'In Der Nacht', which translates as 'in the night'.
The lyrics arose spontaneously from an improvised session. Stylist, DJ, performer and queer activist Karl Michael, who also lives in Vienna, was in Berlin to share some new outfits with Muniz. But when she played him the track, saying she needed a rapper, the two set to work, recording Michael's prosecco-fuelled musings on a phone.
With the stream-of-consciousness flow providing a hazy, playful edge to Muniz's dark, melodic undertones, 'In Der Nacht' pays tribute to a rich vein of experimental, European electronic pop. But it also echoes the mid-2000s, when German electro house recast this heritage and Muniz was finding her feet as an artist in her own right.
In the day and age where anyone can become a producer or a DJ with a laptop and a bit of cheap software, the real polymaths stand out. Joyce Muniz's background as a singer combines in powerful synergy with her slick production sound and her supreme skills as a selector, with each facet of her creative output feeding into and fuelling one another.
Born in Brazil and moving to Vienna in the mid-90s to her pursue her musical dreams, she started out mixing drum & bass and breaks, and soon landed a residency at the legendary Flex Club. This regular slot pushed her to develop into playing a more eclectic multitude of styles, from house and techno to dub. It was here that her 'sound' began to form, drawing on a wide range of influences and styles and filtering them into a dance floor context. Amassing a huge vinyl collection and a deep knowledge of electronic music along the way, she laid her strong foundations in these formative years.
She began her production career in 2010 in the Viennese underground, fusing the sounds of her homeland with the contemporary beats of the city. Her first forays into production saw her combine her native Brazilian sounds with modern electronica, but as the years progressed she has moved towards an eclectic, vibrant take on house music. Along the way she has collaborated with a diverse range of artists including Maya Jane Coles, Viennese legend Richard Dorfmeister (of Kruder & Dorfmeister) and The Jungle Brothers' legendary Bam. She has released on influential imprints like 2020 Vision, Get Physical and chiefly the mighty Exploited, which brought the world her impressively accomplished full-length debut album, Made In Vienna. She has a hefty list of top remixes under her belt for artists inclluding DJ Hell, Steve Bug, Claptone, Munk, Shonky, Stereo MCs, Tosca and Till Von Sein, landing on acclaimed labels like K7!, Poker Flat, Gomma, 8Bit and SUOL.
As if the busy touring schedule and production output wasn't enough, she also hosts her own radio show on FM4 Vienna, has held down a residency on London's Rinse FM since last summer, promotes her Joyce Muniz & Friends club nights and speaks regularly at Native Instruments MASCHINE events.
Her production talents have also caught the attention of many artists, including electro-pop sensation Little Boots, where this year we'll see their next release 'Strange Girl' hit stores in February, and will be followed up with a hefty remix pack featuring Shadowchild, Iron Curtis, Black Loops, RYBO and more all out on Exploited.
Austrian jazz crooner Louie Austen also enlisting her for a collaboration and she remixed the legendary Paul Simon on Sony. More co-creation with other talented names is set to follow in 2109, including her recent collab with Namito, a remix for Anabel Englund, another with Hannah Holland and moving more into cross over genres, Joyce plans to announce a project with Kim Ahn, with a landmark remix from Oliver Dollar.
Her DJ sets to continue to amaze crowds around the world, taking in everything from deep, dark, percussive drums, to electro and driving house beats. She will continue to be a dominant force on dancefloors in the next few years and this year we can see her on a big US tour to kick off the Spring.
alright, we'll keep this short: being a regular on the bills of europe's hottest clubs and festivals, it's safe to say Joyce Muniz is kind of a fixed star in electronic dance music.
she's recently been elected beatport artist of the week and her discography reads like a who is who of dance labels – with releases on exploited, gigolo records, gruuv, culprit and desert hearts. moreover she did remixes for maya jane coles, claptone, paul simon, dj hell, stereo mcs and hannah holland, to name a few.